Published: Thursday, March 10, 2022 11:46 AM
SPRINGFIELD – In response to a deepening mental health crisis across the state, Senate Democrats hosted a press conference in Springfield on Thursday highlighting legislative efforts that would prioritize mental health support for individuals in Illinois.
"Staying mentally well should be given the same priority as keeping physically fit," State Senator Loughran Cappel (D-Shorewood) said. "To achieve this, we need to enact policies to maintain good mental health on top of treating mental illness."
Loughran Cappel spearheaded legislation – Senate Bill 3889 – in the Senate to add a council within the Children's Mental Health Partnership in Illinois.
Under this legislation, the council would look for ways to expand the beds in the state, make it easier for out of state residential facilities to be approved with the Illinois State Board of Education, and offer recommendations on how the state can provide better support for children with mental health issues in an annual report to the governor and General Assembly.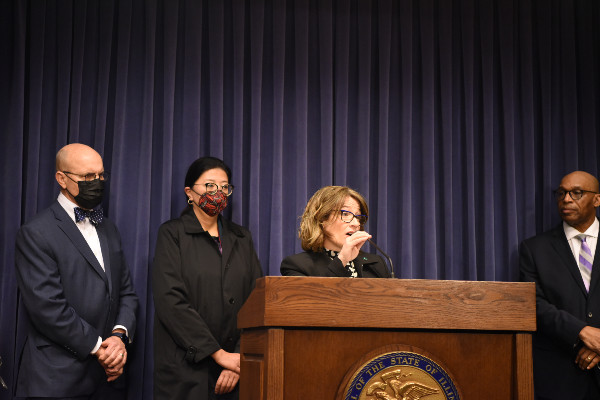 "With low residential placements for children with mental disabilities, children are left staying in the emergency room or at home where they are not safe," Loughran Cappel said. "This council would address the difficulties that so many individuals and their families are facing around the state."
State Senator Laura Fine (D-Glenview) is also leading a measure aimed at growing the mental health professional workforce in Illinois.
As the current workforce continues to struggle to keep up with increasing demand, Fine's proposal – Senate Bill 3617 – will accelerate the process for out of state clinicians applying for licensure in Illinois, as well as suspend requirements for social workers, professional counselors, and clinical psychologists with licenses that have been inactive for five years.
Additionally, the legislation includes initiatives to support diversity in the mental health field, establishing tax credits, and many more provisions, all of which will encourage more quality, accessible care to those seeking assistance.
"Due to the current shortage in the mental health workforce, it is difficult for Illinoisans to find the mental health care they need," Fine said. "This legislation takes the first steps to improve access to mental health care across the state by working to increase the mental health workforce, and reminds people that we support them in their brave decision to seek behavioral and mental health care."
Senators Loughran Cappel and Fine will continue to work alongside their colleagues on these initiatives during the spring legislative session.
For more information on the legislation, click here.
Category: Press Releases