Published: Tuesday, January 11, 2022 11:32 AM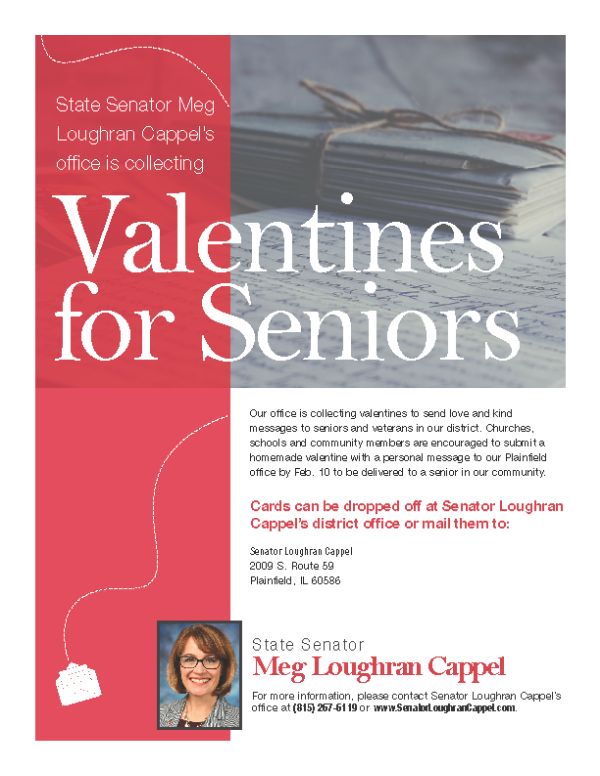 PLAINFIELD – In an effort to lift the spirits of seniors in the 49th District, State Senator Meg Loughran Cappel (D-Shorewood) invites residents of all ages to get creative and donate homemade or store-bought valentines to support seniors.
"This is one small way to brighten the day for our seniors," Loughran Cappel said. "I urge area residents of all ages to take a few minutes to make or buy a Valentine's Day card to make sure our seniors know we are thinking of them during these winter months."
Loughran Cappel is encouraging churches, schools and community members in the region to write Valentine's Day cards, which can be dropped off or mailed to her district office. Once all the cards have been collected, they will be delivered to various senior facilities in the 49th District.
The collection of Valentine's Day cards will run through Thursday, Feb. 10. Those wishing to participate can drop off cards at Loughran Cappel's office or mail them to:
Senator Loughran Cappel
2009 S. Route 59
Plainfield, IL 60586
For more information, residents can contact Loughran Cappel's office at 815-267-6119.
Category: Press Releases